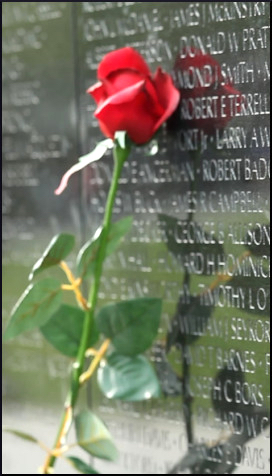 Unfortunately, more still needs to be said about military servicemembers and suicide. The whole subject is fraught with political and emotional minefields. We discussed the "won't accept help" trope, and the terrible barrier created by "bad paper" discharges that prevent wounded vets from getting the help they need. When you get right down to the real nitty-gritty, none of this stuff is the least bit pretty.
House the Homeless co-founder Richard R. Troxell published Looking Up at the Bottom Line, a book that contains these words:
A major increase of homelessness began with the end of the Vietnam War due to a glut of returning soldiers… Veterans of World War II scorned Vietnam veterans. Even though there was a Department of Veterans Affairs, it was comprised of WWII veterans and there was no outreach and no welcome mat for Korean and Vietnam veterans.

It was a senseless war in which soldiers, myself included, were left unsupported at every turn in Vietnam and again when we returned home. The ones that it did not maim or kill, it made crazy and homeless for many years. Some are still that way.
Author John Ketwig has a theory that, up until now, as many as 200,000 Vietnam vets may have committed suicide. Sounds like an outrageous number, doesn't it? Until you consider that an astonishing 9,087,000 American servicemembers served in all capacities during the Southeast Asia conflict, of whom 2,709,918 were actually in Vietnam. That's a total of almost 10 million during the entire era, including almost three million in-country, so maybe the projected suicide total is not so unlikely after all.
We learned that women veterans are more likely than men to self-destruct, and that the number of married suicidal veterans is disproportionately high. Regarding current active duty servicemembers about to be discharged, here is something else to watch out for: During the first year after leaving the military, the person's likelihood of committing suicide goes way up.
Between 2005 and 2011, veterans killed themselves at more than twice the civilian rate. After the Veterans Crisis Line was activated in 2007, the volume of calls increased yearly. It is said by some that in recent years, more active-duty troops have died from suicide than from enemy action. One interesting breakdown isolates only post-9/11 veterans:
A 2012 report from Substance Abuse and Mental Health Services Administration (SAMHSA) showed that between 2002 and 2005, 144 veterans of post-9/11 wars committed suicide out of total veteran population of 490,346. In 2009, 98 men and women from post-9/11 wars took their own lives.
These post-9/11 deaths account for the veteran suicide rate rising 35 percent since 2001, the year of the New York attack. The dire statistics can be expressed in several different ways, depending on the chosen starting point. For instance, with a count starting from 2005, that's around 78,000 suicides.
Returning to Looking Up at the Bottom Line, one school of thought holds that the best gift anyone can give the world is an honest accounting of his or her own experience, and the book certainly does that and more. Of course, House the Homeless assists all kinds of people experiencing homelessness. Still, it is only natural that Richard feels boundless solidarity with veterans. Not surprisingly, his acquaintance with homelessness is also "up close and personal."
Being there lends a strong impetus toward the growth of a person's social awareness, no matter how much of it they started with. The saga of Richard's work against Austin's No Camping Ordinance is inspiring, as are his persistence, patience, originality, and accomplishments in creating better alternatives.
The Home Coming Updates
Watch this space for news of The Home Coming, the sculpture whose figures represent several kinds of people experiencing homelessness — a veteran, a child, and an elderly woman of color. The fulfillment of years of dedicated work, The Home Coming is coming home to Austin soon!
Reactions?
Source: "Looking Up at the Bottom Line," Amazon.com
Source: "Ketwig: More veterans commit suicide than were killed in Vietnam," Roanoke.com, 11/10/17
Source: "Why so many veterans commit suicide," ChicagoTribune.com, 04/05/18
Source: "Veteran Suicides Twice as High as Civilian Rates," News21.com, 08/24/13
Source: "We Lose Too Many Vietnam Veterans to Suicide: Here's How You Can Help," PsychologyBenefits.org, 03/29/17
Photo credit: Ed Schipul on Visualhunt/CC BY-SA