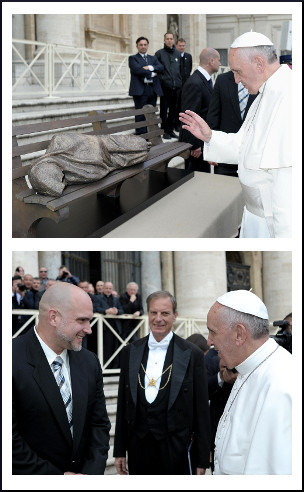 The figures in The Home Coming sculpture represent various demographics, and today we consider the elderly woman who is being welcomed to share the warmth. Along with consulting past posts, here is another way to appreciate the project, as conceived by House the Homeless co-founder Richard R. Troxell.
In this video, "Home Coming Model," (3:02), sculptor Timothy P. Schmalz talks about the artistic challenges and rewards of bringing Richard's vision into three dimensions. During the time when the two were collaborating on The Home Coming, Schmalz visited Rome to meet Pope Francis, in conjunction to donating to the Vatican one of his original sculptures, Homeless Jesus. (See photos at top of page.)
Life's hostages
Experiencing homelessness is so much more complicated for most women than for most men, because women are more likely to have human connections they view as crucial. There might be a child or several children, and for most mothers, a squadron of demons can't separate them from their kids.
Remember the story from Arizona, of how Shanesha Taylor left two children in a car for less than an hour to go for a job interview? She was arrested, convicted of child abuse, and sentenced to 18 years of supervised probation.
Remember Tanya McDowell, who was accused of stealing educational services because while homeless, she enrolled her son in the wrong school?
Amber Mehta had her three children taken by Child Protective Services and distributed to three different foster homes, because she and her husband lived with them in a recreational vehicle. It was particularly traumatic because two of the children were still breastfeeding. It's a long and complicated story, but basically, too many mothers are losing their kids to the system for unjustifiable reasons.
Basic nature
Anatomy is a huge handicap for a woman with nowhere to legally exist. If there is no restroom or portable toilet in the area, a man can at least pee with relative stealth. For a woman, a lot more disrobing is involved, which is awkward, embarrassing, and dangerous under the best of circumstances, and complicated horrendously by winter weather. As for Number Two, that contingency is easy for no one. You not only have to find a concealed space to do your business, but a place to safely leave your belongings.
But back to inequality again. Not all, but most women have to contend with monthly periods, a subject that has only recently come to public awareness. Over the past couple of years, a tremendous amount of press attention has been focused on this problem. "No More Taboo" is an in-depth and scholarly report on the subject from Britain.
Men: can't live with 'em, can't live without 'em
A woman might avoid the system, including shelters, to prevent being separated from a man, legally wed or not, whose support and protection she unequivocally needs. Or, at the opposite end of that spectrum, the man whose domestic violence forced her to leave home might be out there looking for her, and avoiding him is at least as important as avoiding the street's regular predators, and the police, and the child welfare authorities.
In California, The Mercury News headline read, "Facing additional threats, San Jose homeless women often stay hidden from safety net" —  which pretty much tells the whole story. For many women, traditional shelters equal potential victimization. It hurts to say this, but there are even persistent rumors that some male social workers cannot be trusted.
In the process of concealing themselves for the sake of safety, another thing that women stay hidden from is the official homeless count that is used to allocate federal funding. Journalist Ramona Giwargis indicated the scope of the problem:
A survey last year found that about a third of Santa Clara County's 6,556 homeless were women, echoing a San Jose survey of the city's 4,063 homeless in 2015. But another study by the county and the nonprofit Destination: Home reported that half of the people on the streets are women.

The discrepancy between the reports revealed a troubling trend: Homeless women don't go to shelters as often as men… That's because a coed shelter can be a terrifying place for a woman who's been raped. It can trigger fears or bring back traumatic memories.
Homelessness is not an equal-opportunity condition, and being female has its own set of hazards. For many women experiencing homelessness, there is constant temptation to trade intimate favors for a place to crash while saving up for the deposit on an apartment — or even just for a night's lodging. On the other hand, the woman may be too old and/or disabled and/or sick to attract helpful male attention. Which condition is more to be dreaded?
Another ugly aspect is that a woman is never too much of a mess to attract vicious, violent male attention. There is no such thing as being too unattractive to be raped or killed. When a 16-year-old boy raped a 68-year-old woman in a train station, for instance, threatening her with a gun, that was a crime of sheer violence. She was just trying to get out of the rain.
Of course, not all attacks against women experiencing homelessness are sexual or deadly. Ask the 60-year-old who was praying — did you get that? Praying — on a public sidewalk when a teenage boy hit her with eggs.
Injustice of many kinds
Recently, a heartbreaking story made national news when Zaviona Woodruff completed the requirements to receive a college scholarship, but…
[…] she didn't receive the Kalamazoo Promise, a scholarship guaranteed to any city student who remains in the Kalamazoo Public School system from kindergarten through 12th grade, because she didn't live in the KPS district. Prior to 2016, she did. However that year she and her family became homeless.
The family stayed in a shelter, then moved to an apartment without being aware that it was outside some arbitrary line. A technicality turned into an issue, and the fact that any of this happened stinks. Even though it could have happened to a male student too, and even though apparently the official guidelines were violated, the spirit of the whole altruistic endeavor was violated much more grievously.
Reactions?
Source: "Homeless Mother Gets Job Interview But Doesn't Have Childcare, Ends Up In Jail," ThinkProgress.org, 03/27/14
Source: "Breastfed Babies Kidnapped by CPS Because Parents were 'Homeless"Living out of RV'," MedicalKidnap.com
Source: "Facing additional threats, San Jose homeless women often stay hidden from safety net," MercuryNews.com, 07/03/16
Source: "Indiana teenager arrested for raping homeless woman," ImperfectParent.com, 08/25/11
Source: "Praying homeless woman egged on sidewalk; three teens arrested," LATimes.com, 04/15/14
Source: "KPS graduate 'crushed' after she was denied Kalamazoo Promise," Fox17Online.com, 07/25/18
Image credit Timothy P. Schmalz