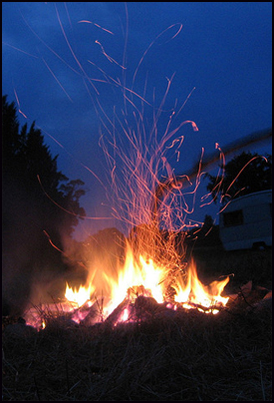 In Austin, Texas, Michael Weathers has been charged with arson (another report says felony reckless endangerment) for a fire that burned up 100 acres, causing severe damage to 10 houses and minor damage to six more. Dwellings have been destroyed, and people have been rendered… homeless.
This is a tragedy. Fire is one of the cruelest things that can happen in a person's life, and its repercussions can last for years, forever. Weathers turned himself in, which is more than a lot of white-collar criminals have ever had the guts to do. How many homeless families are created by one corrupt mortgage company? How many bankers go to prison?
Weathers left the hot coals of a dying campfire unattended and went to buy beer. In a story already causing a great outcry, that's the perfect detail to tip public sentiment over into virulence. Now it seems as if the reaction to one man's dreadful mistake threatens to develop into something like a pogrom. That's a strong word, but it does imply the organized persecution of a group of people, and in that sense it fits. As Andrea Ball, a philanthropy blogger for the Austin American-Statesman, expresses it,
The debate about Austin's homeless is about to get very ugly.
Yes, the fire was intentionally set, and that is an element of the crime of arson, despite the fact that there was no intention to destroy anything. Yes, the man who did it should be held accountable. But when you've got local citizens who think it's appropriate to talk about using the homeless "for target practice," as one online commentator recommended, you've got a problem. The reporter says,
Austin's homeless population already causes plenty of outrage amongst neighbors frustrated with the noise, garbage and disruptive behavior stemming from homeless camps in the greenbelt and other wooded areas. Advocates say the problem stems from a lack of affordable housing and other services to help the homeless.
Well, duh! Homelessness results from a lack of housing, that seems pretty obvious. Also, from expecting people who don't even have facilities to wash themselves or their clothes, to get out there and function like high-powered yuppies. And from about a hundred other factors, none of which are helped by generating an atmosphere of fear and rejection. But even so, the issue has more sides than a pomegranate has seeds. This point was brought up by Statesman reader Mary Ellen King:
Even if affordable housing is an option as suggested in the article, many of them suffer from mental illness and will rarely sleep in shelters when afforded the opportunity.
So housing isn't the only answer. To go along with walls and roofs, what we need is a society that cares for its members. For the mentally ill, there has to be some happy medium between the old way (incarceration in grim state institutions) and the new way (life on the streets.) Isn't there a country somewhere on earth where this situation is handled? And if so, why aren't we learning from that country and following its example?
Ball passed along one report of a large bonfire being irresponsibly built in the recent past, and she has learned that hundreds of people camp in the county's wooded areas. Maybe a small percentage prefer the al fresco life. Probably, most would prefer not to be there. But what else can they to do? The Salvation Army shelter has space for 259 bodies. At the Austin Resource Center for the Homeless, there are only 100 beds. These have to be won by nightly lottery. The rest of the "beds" are 3 inch thick mats that one has to vie for in a second lottery.
ARCH is said to turn away as many as 50 people on a bad night. Lottery losers are turned out into the cold where they face "Quality of Life" ordinances such as no sitting, no sleeping and no camping. And now, because of the drought, the authorities have understandably announced a zero-tolerance policy toward open flames. Violation of the burn ban carries a $500 fine, and good luck on collecting it from a homeless person.
Police officers have begun visiting local homeless camps, urging them not to have campfires or open flames of any kind. In the department's south district, officers were talking to people in the 35 to 40 known homeless camps and those panhandling at busy intersections.
As President of House the Homeless, Richard R. Troxell sent an email to colleagues that said,
Perhaps it was carelessness or perhaps it was a gust of wind that blew up from a dead still as it did in my presence just 5 minutes ago. The state of Texas is in a high fire condition. One and one half million acres have burned this year already… We all need to help one another and everyone is innocent until proven guilty either of arson or even carelessness.
Debbie Russell contributed this to the discussion:
So far I've not seen our community leaders lash out; but plenty of haters are doing so on online forums. I hope our leaders resist catering to the call for homeless-blood. One person is accused here; not a whole community. This is an isolated accident, not indicative of a practice of a group… To embark on a large-scale "sweep" campaign (as we have done already, in different areas of town like Waller Creek and on the camps) in an attempt to "solve" the "problem" would be wholly irresponsible of us… I'm REALLY hoping we can contain the knee-jerk urge to vilify all homeless people because of the act of one careless individual… Attacking the homeless is not the way to solve public safety issues. EVER.
Mellower Austinites suggest that this is a good opportunity to increase general awareness of homelessness, because it would be helpful to understand how people get in this position. Well, one of the ways they become homeless is when their house burns down because a fire was started in a nearby homeless camp. In other words, homelessness is a societal force that tends to grow exponentially. It's like a snowball rollin' down the side of a snow-covered hill.
One person's story is that she let a homeless relative move in, which was against the terms of her government-sponsored housing lease, so she got evicted, and now she too is homeless. A young person's story is that his homeless uncle moved into the family's garage, and kept cornering him with sinister intent when nobody else was around. So he hit the road, and now there's one more teenage runaway with an alley for a rec room. Homelessness begets homelessness.
So, yeah, understanding is good. Doing something is better. Now more than ever, Richard R. Troxell and House the Homeless urge the adoption of the Universal Living Wage. Richard says,
If we work together and house the homeless, then we dissolve the scenario. If local businesses paid fair living wages then 1/2 of the folks experiencing homelessness can work themselves off our streets and out of our woods. It's not just up to the taxpayers to solve homelessness. We all share in the outcome. We're all members of this community.
Reactions?
Source: "Oak Hill fire, arson and the homeless," Charity Chat (Austin American-Statesman), 04/18/11
Source: "Police spread word of outdoor fire ban to homeless," Austin American-Statesman, 04/18/11
Image by Jelle S. (Jelle), used under its Creative Commons license.3