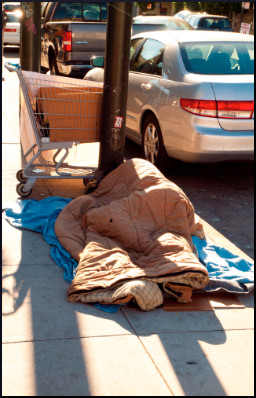 The housed people of San Francisco, and the businesses they run and patronize, are upset. For one thing, they pay for the weekly removal of an estimated 12.5 tons of garbage from homeless encampments. That sounds like a lot, but it turns out to be not even a truckful, according to John a. Bates via Answers.com:
The truck I drive is a 2005 Mack LE600 with a McNeilus 32 cubic yard packing body and I average weights ranging from 14.5 tons (multiple bulky items) to 18 tons (little or no bulky items). The most weight I have put on this truck in one shot is 21.74 tons.
A skeptic could formulate questions. How much of every ton of "trash" actually consists of wanted and needed personal property like blankets, sleeping bags, and tents? Are the garbage numbers ever padded, like, for instance, the notoriously inflated drug raid totals that turn up every now and then, just to make a better story?
The crews remove a lot of human waste, too, and steam-clean the sidewalks for sanitary purposes. All this costs the taxpayers $4.7 million per year, and a reasonable person might ask why the beautiful and exquisitely civilized city by the bay doesn't use some of that money for restrooms, or at least port-a-potties.
The SF Homeless Project is part media blitz, part conceptual "human catastrophe" prevention effort, around which many events were planned by numerous agencies and charities. Over 70 media organizations pitched in to raise awareness, starting last Wednesday, and Alissa Walker of Gizmodo has collected information on numerous aspects of the citywide campaign.
Remember our post about Airbnb? The company was founded in 2008, the same year that is generally acknowledged to have launched the recession that pushed homelessness to the top of the problem list. Only the most adamant conspiracy theorist would see a connection, but still…
The company ferociously resists any attempt to curb its voracious appetite. Proposed legislation known as Proposition F sought to impose a few restraints, and to require hosts to report their taxable income. But Airbnb reached into its $30 billion pocket and bought enough influence to defeat the attempt.
Maybe San Francisco's current wretched housing situation stems partly from the fact that "the city is Airbnb's most avid user." Michael J. Coren writes:
A new Statista analysis found San Francisco has nearly double the listings per capita (9.8 per 1,000 inhabitants) versus any other city, based on InsideAirBnB data. (Airbnb cited its own similar statistics on San Francisco when we asked for confirmation.)
This fall, the city's voters will have the opportunity to approve even more drastic anti-homeless measures. They will decide whether to pass a referendum designed to banish all homeless camps and tents from the streets. Kriston Capps cuts to the heart of the matter:
The ballot is a heinous way to decide the fate of San Francisco's nearly 7,000 homeless residents. A referendum enables the city's most callous voters to indulge in indifference, but that's not even the worst of it. A referendum asks many more voters to accept a short-term solution to homelessness by pushing them out of sight and out of mind, which helps to foreclose on the possibility of a viable long-term structural solution.
And now the words from Richard R. Troxell, President of House the Homeless:
This week in LA a drunken woman drove onto a sidewalk and ran down a person experiencing homelessness.

After he crashed through her wind shield, she drove for a mile with the man collapsed in her passenger seat. Sound familiar? In 2002, Gregory Glen Biggs met a similar fate when a nurse's aid, after a night of partying, did the same thing. However, she drove all the way home with the man still impaled in her windshield.

She parked in her garage and lowered the door. For three days she talked to him explaining her sorrow. Upside down and bleeding out for three days, he finally died. The nurse's "aid" then got her cronies to dump his body in a park where homeless folks gather, knowing he would not be noticed too quickly.

Then while at another party, she retold the story in a cavalier fashion. Aghast and disbelieving the story, a listener contacted the police. The story was uncovered and the judge set her bond at $10,000. We were incensed and got the bond reset. Mr. Gregory Glen Biggs was an unemployed bricklayer in Fort Worth trying to turn things around at the time.

Post Script: The Coroner later said that the original injuries were not life-threatening and that had Mr. Biggs been brought to the hospital he would have, in all likelihood, survived.

I am saddened beyond explanation. So little has changed in so many years.
In longer form, this dark story also appears in Richard's book, but to offset the grim realities, Looking Up at the Bottom Line is packed full of positive and uplifting accounts of many amazing accomplishments.
Reactions?

Source: "Tons of waste removed from San Francisco Homeless Camps Weekly," ABC7news.com, 06/29/16
Source: "How much can the average American garbage truck hold?," Answers.com, 2016
Source: "The Best and Worst Ideas from San Francisco's Big Homelessness Project," gizmodo.com, 06/29/16
Source: "San Francisco has a love-hate relationship with Airbnb," qz.com, 06/30/16
Source: "One More Threat to San Francisco's Homeless: San Francisco Voters," CityLab.com, 06/29/16
Photo credit: Franco Folini via Visualhunt.com/CC BY-SA