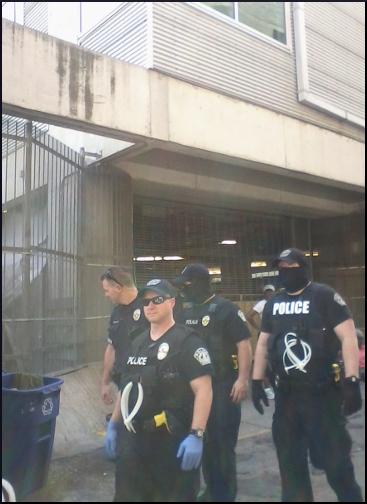 Not long ago, Thomas Johnson of MimesisLaw.com published a piece called "How Does it Feel Winning the War Against the Homeless?" He sees an ongoing assault against the poor, waged by cops who increasingly act as private security forces for the wealthy elite class.
This is especially offensive because a myth, vigorously promoted in certain parts of the culture, portrays the police as victims. To them Johnson says:
When you spend your time kicking the homeless around and arresting people for trying to serve them some food, you've gone far off your mission of fighting crime. You're no hero.
As House the Homeless has also done, Johnson mentions cities where folks have been arrested and/or fined for feeding people experiencing homelessness. He admits that members of the police force don't make the laws — although evidence shows that, in a sense, they do.
Word on the street has it that police unions and prison guard unions wield far more lobbying power than they ought to, in areas that directly affect the creation and enforcement of laws (like mandatory minimum sentencing). In particular, they work hard to escalate the War on Some Drugs and Most Adults.
The thought experiment
The writer takes his readers on an imaginary journey reminiscent of two different Michael Douglas movies. In Falling Down, a tie-wearing professional abandons his car on the freeway and walks through Los Angeles, quickly devolving into a one-man death squad. In The Game, a man is drawn into a mysterious live-action role-playing game in which he believes he has lost everything, with equally homicidal results.
Those are fictitious characters, but Johnson asserts that any mayor, city councilperson, banker, real estate developer, or law enforcement officer (stripped of uniform and equipment) would be similarly unhinged. The writer posits:
You are on the street, with only the possessions on your back. You have nothing, you are nobody. Maybe it's your own fault. Maybe you're innocent. Either way, you are sleeping outdoors tonight.
It is all too easy to imagine. A newly homeless person soon learns that sleeping is easier said than done. At the same time, there is little else to do. Few commercial establishments are open at night, and those that are do not want scruffy penniless bums hanging around.
After four or five days, your odor is decidedly pungent. Nobody cares about your sad story, especially not the police, of whom who you quickly learn to steer clear.
Taking the final step into degradation, you stake out a panhandling spot. The ruffian who claims that patch of sidewalk pushes you into an alley and hurts you badly. Soon, you're digging through dumpsters for food that may or may not give you a case of salmonella poisoning, and you still haven't hit bottom yet.
It is easy to agree with Johnson that an upper-class American, if dropped into the bad part of town with empty pockets and no resources, would soon go feral. He gives a description and a warning:
Welcome to your new mental state: A hazy mix of terror, stress and sleeplessness that will guide you to desperate acts and many poor decisions.

Smugly thinking it could never happen to you is wrong. Fortunes change.

Realize that it could be you out there and declaring war on those less fortunate will not make them go away…
Inspired by such thought experiments, many complacent Americans are able to experience a shift in consciousness. Attitudes adjust and activism amplifies. They come to believe that "Conditions need to change, because if not, the bad thing could happen to me some day."
It is a start. But we should demand from ourselves something better than that — something a bit more akin to, "Conditions need to change because, in millions of lives, the bad thing has already happened."
Reactions?
Source: "How Does it Feel Winning the War Against the Homeless?," MimesisLaw.com, 01/11/17
Image by Richard R. Troxell