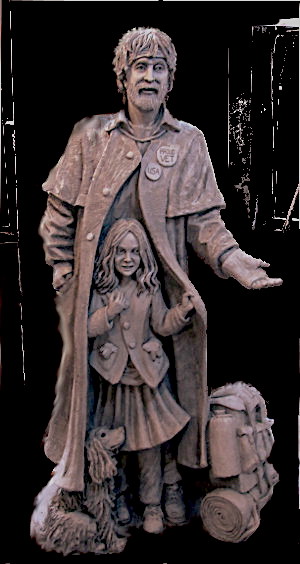 House the Homeless recently discussed the plight of children and pets experiencing homelessness, because we are talking about the sculpture called the Home Coming, two of whose figures represent those beings (partial image to the left). The tallest person in the group is the little girl's father, a returning veteran.
Bone-weary, angry from a sense of betrayal and unappreciated sacrifice, he wonders if the "promised land" he fought for will ever yield a place for him. With his minimalist pack of gear resting beside him, he shelters the child with his cloak as they enjoy the unexpected gift of warmth from a trash fire.
So, what is going on with American military veterans these days? Progress is made here and there, by fits and starts.
For instance, it was 2009 when the Veterans' Administration announced that it hoped to end veteran homelessness by 2015. Between 2010 and 2013, a 24% reduction was said to have been achieved. Journalist Nick McCann noted, "Some veterans' advocates are skeptical of the VA's goal of ending homelessness among veterans, especially because funding for veterans will be reduced after 2015."
In 2014, then-First Lady Michelle Obama got behind the Mayors Challenge to End Veteran Homelessness. The progress made, says Roger Chesley, has not necessarily depended on big expenditures. Bureaucrats have made efforts to lower barriers between their agencies, and coordination between local, state, and federal authorities has grown.
Virginia governor Terry McAuliffe aimed to end veteran homelessness in the state by 2015, and succeeded in housing 743 vets within a year. Virginia seems to be trying to help the most vulnerable, the people with physical and mental disabilities including addiction, with the "housing first" philosophy. Steps one through three are to identify, assist, and house. Then, bring on the counseling and treatment.
The nitty-gritty of housing
HUD-VASH is the country's largest housing program for veterans experiencing homelessness. Based on the Point-in-Time count, the federal government determines how many housing vouchers to distribute in each part of the country. It is said that nationwide, communities using the vouchers have housed 78% of the veterans who needed help. Depending on their assets and employment status, the individual pays from 30% to 40% of their rent.
Problem is, in many places, for both vets and other varieties of people experiencing homelessness, having a voucher of any kind is meaningless if there are no rental vacancies, or if landlords are unwilling to rent to tenants who receive assistance. Tenants on the taxpayers' dime need to occupy spaces that are safe, fire-protected, un-infested, and without toxic leaks. Property owners have to fill out a bunch of paperwork, show up for inspections, and make repairs if needed.
As much as they hate expenditures, landlords hate bureaucracy and regulation even more, and tend to resist what they see as unnecessary snooping into their affairs. At the same time, they don't mind generating paperwork for others, like the applications that have to be filled out and submitted with rental application fees.
A prospective tenant might apply to several vacancies. As journalist Anna Webb says, "They deplete meager resources, leaving nothing for first and last month's rent and security fees." She adds,
The HUD-VASH program operates on the principle that housing is a basic human right. It follows a "housing first" philosophy: Start with a safe home, then build from there to solve other problems. HUD-VASH vouchers don't expire. They're available indefinitely for the veterans who need them. But in an ideal scenario, a homeless veteran will use HUD-VASH to get healthy, get a job, become self-supporting and leave the program.
The hard-nose landlords are counterbalanced by the rare few who consider it a patriotic duty to accept vets as tenants, and willingly work with the case managers. Webb quotes social worker Amanda Walund, who has been a case worker since 2011:
It seemed that when I first started, we had a good base of landlords, more property managers on board. In the last few years there are fewer property managers who will accept vouchers and rents have increased beyond what vouchers will pay.
And, of course, even vets who are able to rent are subject to the same economic uncertainty as other tenants, because rising rents are always as certain as death and taxes. Another difficulty is that available rental properties may be far away from the medical facilities and other agencies that a disabled or disoriented individual needs to deal with — often, using public transportation that is either inadequate or nonexistent.
Visit the statues section of House the Homeless, and see how to become a part of this exciting project. It is a beacon of hope and an enduring, visual way of telling the story that housed people might not think about very often. It's the story of a lifestyle with nothing glamorous about it, that millions of Americans are compelled to put up with, and desperate to escape.
They feel invisible and discarded. They need help to get over the hump, and the very large majority are good people who, like the family unit portrayed by the sculpture, are willing to share what little they have.
By the way, The Home Coming will not remain strictly visual. In contrast to its kinship
with the ancient lineage of metal statues, this one will have a technologically up-to-date means of telling its entire story to visitors.
Reactions?
Source: "VA Plans Change for Homeless Veterans' Care," CourthouseNews.com, 05/15/14
Source: "Cutting red tape to find housing for homeless veterans," PilotOnline.com, 06/20/15
Source: "Rent vouchers in-hand, homeless Idaho veterans still struggle to find housing," IdahoStatesman,com, 04/15/15
Image by House the Homeless