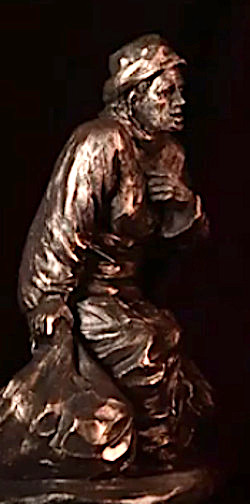 In The Home Coming sculpture group, the male figure also represents veterans (and of course there are female veterans too). Then, there is a woman who also represents the elderly and people of color; and a young girl who also stands in for boy children, equally vulnerable and deserving. In other words, there is a lot of crossover among America's unhoused population, including a segment with advanced degrees, all of which highlights the multifactorial nature of homelessness.
House the Homeless Co-Founder and President Richard R. Troxell is a Vietnam veteran who defeated obstacles that stood in the way of readapting to civilian life, as described in his book, Looking Up at the Bottom Line. Richard asks us to remember that generally, higher household incomes coincide with fewer reports of violence against women.
It has been know for some time that financial security buttresses the stability of mental health. When families are not constantly stressed by inability to pay bills or afford any extras, domestic violence decreases, and this connection was formally admitted in a 2004 report by the U.S. Department of Justice.
This month, we find this headline: "Increasing minimum wage, tax credits could stop over 1,200 suicides a year." Researchers from UC Berkeley figured this out. The paper they published, "Can Economic Policies Reduce Deaths of Despair?," is the first to prove a direct relationship between self-destruction and the minimum wage.
Former servicemembers
House the Homeless has spoken about conditions that the Veterans Administration does not seem able to fix. Here is another "hot off the presses" item:
An unidentified veteran died early Monday morning outside the emergency room of the Louis Stokes VA Medical Center in Ohio, the 7th suicide this year on a VA property and the fourth this month.
The veteran suicide toll still stands at around 20 per day, but seemingly, individuals are choosing to exit from the world in a public fashion that imparts a message. Supposedly, in a past human society in one part of the world, it was customary to point the blame at an enemy who had wronged you by committing suicide at his gate.
Is that what is going on? Another source quotes these words:
"Walk into a clinic and shoot themselves, or light him or herself on fire, what's going on?" said Sherman Gillums, AMVET spokesperson.

"We have too many veterans that are committing suicides, too many veterans that have mental health issues and we also have this opioid problem at the same time," said Senator Shelley Moore Capito.
Has it occurred to anyone that homelessness, or the ever-impending threat of homelessness, might be contributing to this crisis? Could not having a place to live possibly be connected with these other problems?
Homeless Patient Aligned Care Teams (H-PACT)
Throughout the country, in the hospitals that remain, emergency rooms bear the brunt of homelessness. The proponents of H-PACT want to change the "fragmented, costly care" paradigm for several reasons. Among veterans who receive urgent care treatment, about one in five are either back at the emergency facility and/or are hospitalized before 30 days have gone by. One source explains:
H-PACT services are intended for the most challenging and complex cases and patients that are most difficult to engage in care — such as those who have multiple morbidities, have difficulty keeping scheduled appointments, make multiple visits to the emergency department, or have underlying mental health or substance abuse needs…

The goal of H-PACT is to create a collaborative homeless medical home model eliminating barriers and obstacles to accessing quality health care by incorporating social determinants of health into care delivery, and to fast-track permanent housing placement.
Enrolled vets are said to gain housing 81 days faster than those who are not enrolled in H-PACT, and the program shaves nearly $10,000 per year off each enrolled person's medical care bill.
Cannabis helps a lot of people with chronic pain, PTSD, and numerous other problems. But even in states where medical marijuana is legal, VA doctors are not allowed to recommend it to to their patients. Earlier this year, the Veterans Medical Marijuana Safe Harbor Act was introduced to address this discrepancy.
Also, please don't miss this publication from House the Homeless and several associated organizations: "Homeless Veterans in Action Traumatic Brain Injury — A Protocol to Help Disabled Homeless Veterans within a Secure, Nurturing Community."
The Home Coming Statue Unveiling at Austin's Community First! Village on Saturday, May 18
House the Homeless' Home Coming statue project has been in development for several years, the result of a collaboration between House the Homeless and sculptor Timothy P. Schmalz. The project was conceived with an idea of putting a positive face on homelessness. Richard envisioned the statue project as a memorial to those who have lost their lives to homelessness.
Thanks to funds raised exclusively for this memorial, the much-anticipated life-sized bronze statue will be introduced to the public at Austin's Community First! Village next month. We invite you to the unveiling ceremony, details below.
When: Saturday, May 18, 2019, 9 a.m.
Where: Community First! Village, 9301 Hog Eye Rd., Austin, TX 78724
Getting there: The bus from downtown Austin leaves at 6:58 and 7:58 a.m. (Take the route 6, East 12th, from 7th & Colorado).
Accommodations: Out-of-town visitors are welcome to stay at the Community Inn on premises. Call 512-551-5453 or contact the Inn at communityinn@mlf.org for more information.
There will be live music, and free coffee and breakfast tacos will be served.
Reactions?
Source: "When Violence Hits Home: How Economics and Neighborhood Play a Role," NCJRS.gov, 2004
Source: "Increasing minimum wage, tax credits could stop over 1,200 suicides a year," Berkeley.edu, 04/29/19
Source: "Hours After 7th Vet Suicide at VA, Officials Repeat Plea for Public to Help," Military.com, 04/30/19
Source: "Veterans' suicides at VA facilities are apparent protests against poor care, advocates say," Wavy.com, 04/22/19
Source: "VA Homelessness: Homeless Patient Aligned Care Teams," AHRQ.gov
Source: "Three Cannabis Issues Congress Needs to Tackle," Townhall.com, 02/16/19
Image courtesy House the Homeless