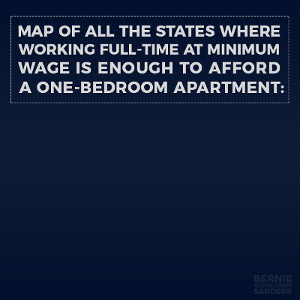 George Orwell, author of 1984 and Animal Farm, published another book 80 years ago called The Road to Wigan Pier, about the terrible conditions in England just after the Great Depression. What does it remind you of?
In the industrial areas the mere difficulty of getting hold of a house is one of the worst aggravations of poverty. It means that people will put up with anything — any hole and corner slum, any misery of bugs and rotting floors and cracking walls, any extortion of skinflint landlords and blackmailing agents — simply to get a roof over their heads.

Most of the people I talked to had given up the idea of ever getting a decent habitation again. They were all out of work, and a job and a house seemed to them about equally remote and impossible. Some hardly seemed to care; others realized quite clearly in what misery they were living.
It reminds us of the situation in parts of America today, where more and more economically stressed people are competing for fewer and fewer affordable rentals. Remember our posts about Airbnb as it manifests in Los Angeles and San Francisco?
More happened. The short-term rental broker sued the city of San Francisco and here's the crazy part: Airbnb had participated in writing the law it sued about, one that "capped short-term rentals at 90 days in addition to requiring renters to register." Doesn't sound so unreasonable, does it?
Airbnb soon reversed its stance, and claimed that the law violates not only the First Amendment free speech right, it also violates the federal Communications Decency Act. Gizmodo's Angela Chen explains exactly how, along with other complicated circumstances, and also why the mayors of 10 big cities met to figure out what to do about Airbnb.
Airbnb is also accused in other contexts as being exclusively white-privileged. Proponents call it homesharing, to make it sound all warm and fuzzy, because who would want to come out against homesharing?
But these domiciles are not being freely shared with newly-evicted families, no, they are being rented at unbelievably elevated prices to people who already have at least one home. Property owners can make so much more money renting to a never-ending series of vacationers than to, for instance, a nice family looking for stable situation to raise a couple of kids in.
Not inspiring of optimism
Meanwhile, who wouldn't want to know about a rental ripoff even more disgusting than Airbnb? Rentberry, described as "a cross between Craigslist and eBay, wants to expand from 10 to 1,000 U.S. cities. Basically, from the highest bidders' pool, landlords can choose the prospective tenant who makes the best impression.
Supposedly, it will even lower rents in some parts of the country. This prediction is partly based on an outlandish-sounding claim that there is an oversupply of apartments in America:
[…] if it takes off and becomes the new standard for renting apartments… landlords will have the control.

[…] the ease of having background checks already complete and the possibility of higher rents than expected could prove enticing.

And Rentberry isn't the only one to see the potential in this business model. Competitors like Biddwell are also coming up, ensuring that this idea won't live or die with just one startup.
The following notes were taken by your correspondent who went undercover to a seminar for Colorado landlords, presented by a nationally acclaimed consultant. This was around 20 years ago — in the good old days:
He gave them advice on what he called a powerful control tool. "Do not give yearly leases. By keeping the tenants on a month-to month lease, you can get rid of them in ten days instead of thirty."

Discussing three-day eviction, he exclaimed, "This is fabulous stuff, fabulous. For crying out loud, use it!"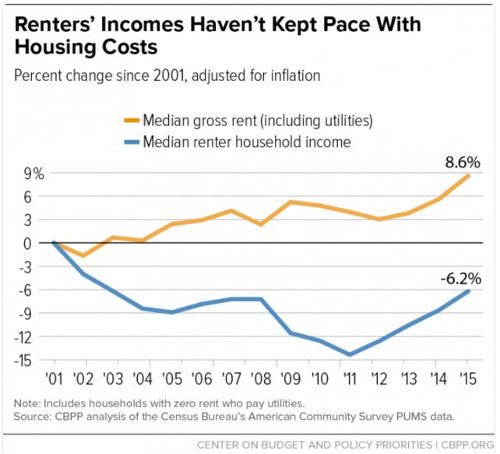 Simple Charts Are the Best Charts
… Such as this one from the Center on Budget and Policy Priorities. Much of their raw data, incidentally, comes from the decennial census, and here are some facts about that:
The census is one of the most impressive attempts any country makes to count its own people, a crucial building block for the world's largest economy…

The census affects every corner of America, determining where hundreds of billions of federal dollars flow annually, where businesses open new stores and which states gain — or lose — seats in the House of Representatives in 2020 reapportionment.
The bad news, as delivered by Danny Vinik, is that the nation's ability to carry out its next national census appears to be threatened. How this can particularly affect the expenditure of $500 billion dollars in such areas as housing, based on the American Community Survey, is explained in chilling detail by ScienceMag.org.
More posts concerning rent and other closely related topics:
Reactions?
Source: "The Road to Wigan Pier," George Orwell
Source: "Airbnb Sues San Francisco Over Law It Helped Draft," Gizmodo.com, 06/28/16
Source: "Bidding Website Rentberry May Be the Startup of Your Nightmares," Gizmodo.com, 04/02/17
Source: "Trump's Threat to the 2020 Census," Politico.com, 04/09/17
Source: "Scientists fear pending attack on federal statistics collection," ScienceMag.org, 01/03/17
Image sources: Fair use (top), CBPP