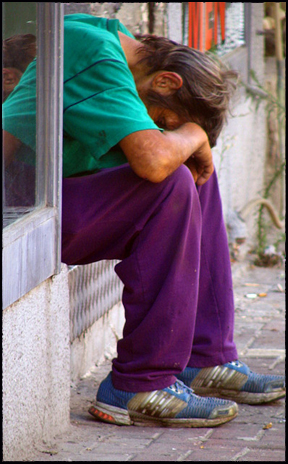 The lives of people experiencing homelessness are inextricably involved with hospitals. One of the most affecting parts of Richard R. Troxell's book, Looking Up at the Bottom Line, is the story of Diane Breisch Malloy, whose tragic death in Texas inspired the inauguration of Austin's annual Homeless Memorial. If this sick woman had been in a hospital where she had probably belonged, she would not have been sleeping in a dangerous spot, and would not have been swept away by storm water and drowned.
A few days ago, we talked about past behavior by an Inglewood, California, hospital that strikes many people as quite irresponsible, and some consider it downright unethical. At the very least, it was lousy patient discharge management. That news story was the latest, but not the only case of what has been rudely called homeless dumping, which looks like a growing trend.
Los Angeles Times reporter Richard Winton writes,
Since 2006, the city attorney's office and Los Angeles Police Department have uncovered hundreds of cases in which patients were dumped by hospitals across the region at facilities in skid row and other homeless shelters.
Winton previously reported on other examples of what LA City Attorney Rocky Delgadillo calls a "horrendous and unconscionable practice." For instance, the journalist wrote about how 54-year-old Gabino Olvera had been unloaded from a Hollywood Presbyterian Hospital van and left on Skid Row. This was done in front of several witnesses who questioned the driver about the lack of wheelchair or other support equipment. Winton wrote,
Olvera, wearing a soiled hospital gown and a broken colostomy bag, was found in February 2007 crawling in a gutter downtown.
In 2009, Winton joined with fellow reporter Cara Mia DiMassa to expose other similar disposals of discharged patients, like the one performed by College Hospital. The patient was Steven Davis, who was diagnosed with bipolar disorder and schizophrenia and schizoaffective disorder:
Doctors at the Costa Mesa mental institution prescribed him numerous drugs to deal with paranoid delusions that had led to an earlier suicide attempt. But that didn't stop the hospital from hauling Davis into a van and driving him more than 40 miles north to downtown L.A., where they dropped him off outside the Union Rescue Mission. When mission officials complained to the hospital, the van returned and drove Davis a few miles south to another shelter. Davis wandered away without ever entering.
When these various news articles were published, comments from the public voiced emotions that ran the gamut from intense sympathy for the patients to total exasperation. What is a hospital supposed to do with a patient who has nowhere to go? If the person still suffers from the presenting diagnosis, but it's not life-threatening, what then? If the person has been cured of an acute illness but is still burdened by one or more chronic illnesses, what then? If the person is as well as a homeless person ever gets — what then?
The reporters tell us about a new city law that requires the written consent of a patient to be taken anywhere other than his or her residence. Exactly how this will help any homeless patients is not clear. The Southern California hospitals that have been reprimanded and fined for wrongful disposition of discharged patients have also been made to sign an agreement about future behavior. An injunction orders them to not transport homeless psychiatric patients to the streets or shelters of the "patient safety zone," in other words, Skid Row and the extended area of downtown and south LA where most of the missions and shelters are.
But… that's where the missions and shelters are. What if that is exactly where the patient wants or needs to go? Taking them somewhere else just makes it more difficult for them to obtain the needed services. It's hardly a solution. And, of course, like any rule, the rule against dumping discharged patients in the worst inner-city areas has to be enforced by somebody. That would be the police, and it's another wrinkle in the overall situation. Apparently, law enforcement agencies are also in the habit of routinely dropping off people released from custody in the Skid Row area. Well, where else are they going to take them? Rodeo Drive?
Who is responsible for what? The situation is complicated by larger questions of personal freedom and autonomy. What if a person of legal age is discharged from an institution and simply does not want to be delivered anyplace? What if she or he doesn't feel like requiring anyone to show up and take responsibility? Shouldn't an adult citizen have the right to just walk out the door? The whole situation is a mess from any point of view, and it's one problem that really, really needs to be handled.
Reactions?

Source: "Hospital accused of dumping L.A. homeless woman to pay $125,000 fine," LA Times, 03/18/11
Source: "Skid row dumping suit settled," LA Times, 05/31/08
Source: "College Hospital to pay $1.6 million in homeless dumping settlement," LA Times, 04/09/09
Image by miss pupik (Shira Gal), used under its Creative Commons license.