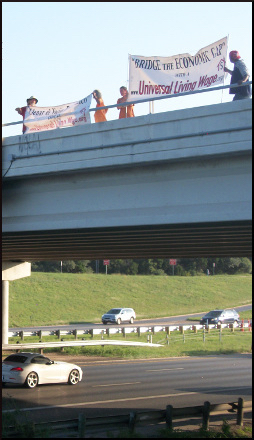 Coming up soon is Bridge the Economic Gap Day, on Tuesday, September 4, which is the day after Labor Day. We have a nice collection of archived posts just waiting to satisfy the curiosity of readers who want to support and participate in this nationwide annual event.
Organizations that get involved include unions, faith-based groups, non-profits, businesses, and more. In 2005, House the Homeless co-founder Richard R. Troxell wrote to then-Senator Barack Obama about Bridge Day and the Universal Living Wage.
Here are photos from Bridge Action Day in 2010. In 2015, the 14th Anniversary of Bridge the Economic Gap Day was celebrated. This commemorative page also includes a record of the various campaigns and activities initiated and backed by House the Homeless.
The following year, we quoted Richard's words:
We need to index the federal minimum wage to the local cost of housing. In this fashion, if a person puts in their 40 hours of work, they will be able to afford a basic rental property… No matter what that rent escalates to, or where it's located. This makes sense for business as it stabilizes their minimum-wage workforce. This makes sense for the local construction industry (nationwide) that will get to construct housing for the 3.5 million people experiencing homelessness. And it makes sense for the homeless minimum-wage worker who can finally attain housing.
Additionally, our website holds many more resources, like a whole section on the Universal Living Wage, and a copy of letter that Richard recently sent to Spencer Cronk, the City Manager of Austin. This missive recalls the decades-long resistance against "right to rest" laws up to the most recent activities of HtH:
I came with a winning argument that yielded the compromise with Council Member Randi Shade, the Health and Human Services Committee, and the City Council. The people got every point now reflected in the enclosed No Sit/No Lie ordinance guide. We have reissued these cards to our citizens in English and Spanish, and to our police officers four times in lots of 5,000. In the end, we were all winners.
The Home Coming Statue
Last time, we talked about the project that puts a positive face on homelessness through artistic expression. The Home Coming is a work with several components, one of them being canine, and we brought up some of the important things to remember about the human-animal relationships that are, for many people experiencing homelessness, so important to both physical safety and mental health.
We will recount the whole narrative backdrop of the sculpture in a future post, but the salient fact to know right now is that another of the characters in the still-life drama is a child. What do we know about child homelessness in the greatest country on earth, the United States of America?
Homeless children are of different kinds. A baby with its mother is a whole different category of child than a 14-year-old who ran away from an abusive step-parent. Unaccompanied youth are the best at hiding their housing status. They bounce around from place to place, and because youth in itself is attractive, they "clean up nice" when it's necessary to pass for what is considered to be normal.
In the counting department, it's a shame when a state official says the only available estimates are "based on overall nationwide perceived percentages of homelessness amongst unaccompanied children." What? Where does the federal government get its numbers from, if not from the states? Even more discouraging is when the same official doesn't care about getting numbers anyway, because he or she doesn't believe any of them.
A circular dynamic happens. Because there are no services they can apply to, kids are not identified as homeless. So they are not counted, and when the time comes for an agency to ask the state or federal government for financial support, the paramount question is, "How many kids are we talking about?" And nobody knows, because… (go back to the beginning of the paragraph.)
Trendct.org presents a number of promising ideas to incentivize kids to make themselves known to the system. For instance, if an adult wants to ask questions, have that person vouched for by a juvenile who is trusted by the other juveniles. Of course, concepts like social proof and personal vetting have been around since cave people days. The trick is, teaching people how to be more competent at winning the confidence of strangers, through authenticity and other ethical methods.
(To be continued…)
Reactions?
Source: "Homeless children: A new strategy to count an invisible population," TrendCT.org, 05/07/15
Image by: House the Homeless